Contributed by Eleanor Howard, a student at Marquette University in Wisconsin, U.S.A., majoring in Environmental Engineering.
This summer, (winter in Malawi) I was given the amazing opportunity to be an intern at a local non-governmental organization in Malawi called Kusamala Institute of Agriculture and Ecology. My passion towards environmental issues gave me the greatest motivation to join Kusamala as an intern as I knew I could grow my knowledge of environmental issues while practicing environmentally conscious procedures. My time working with Kusamala exceeded my expectations, and I am returning to school with a new outlook on sustainable farming and agroecology. Kusamala has implemented several projects that address different environmental issues, including deforestation, pollution, soil erosion, food and nutritional insecurity, and many others. Kusamala granted me valuable insights on the harmful effects of fertilizers and pesticides, as well as taught me a new approach to gardening that is much more sustainable, environmentally friendly, and produces significantly higher yields called permaculture. I had never heard of permaculture before coming to Malawi, and I am excited to introduce to my fellow Americans the various unique practices taught by Kusamala.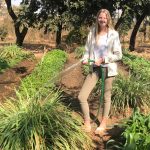 During my time at Kusamala, I worked either in the office or in the gardens. In the office, I helped to edit or write educational documents such as reports, success stories, or blogs which were key to achieve various outreach strategies. In the gardens, I tended to the many trees, fruits, vegetables, and other plants Kusamala grows by watering, weeding, and transplanting. Through this work, I developed an understanding of permaculture and what makes it so beneficial to both the environment and to the individual implementing these practices. I also developed marketing, composting, and gardening skills that I believe will aid me the rest life. I learned how to use all resources available efficiently and effectively, among many other permaculture principles.
The overall goal of Kusamala is to see Malawians become self-sustainable by producing their own crops in a low-cost and less environmentally taxing way. This goal is accomplished by teaching the surrounding community members on how they can maximize land productivity by using all resources available to their full capacity. This perspective is advantageous to both the environment as well as to the citizens of Malawi, who are primarily subsistence farmers.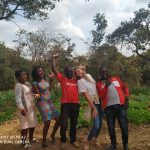 Lastly, the staff of Kusamala plays a large role in the productivity of the organization as a whole, as each and every one of them care deeply about their work and helping others. Everyone was very welcoming and kind, and I feel very lucky to have been able to work alongside these wonderful people and to learn from them. Thank you Kusamala for the amazing past three months where I was able to develop new skills that will assist me in my future education and career- and for all the fun!