Contributed by Chisomo Kamchacha and Tiwonge Nkosi
After every two years, the German Federal Ministry of Food and Agriculture hosts the International Leadership Workshop for Rural Youth, an event which has been held at the house of Bavarian Agriculture in Herrsching, Germany since 1962.
This year, the 28th International Leadership Workshop for Rural Youth was held from 9th to 22nd August 2017 under the theme 'Inspiration from diversity, Herrsching works'.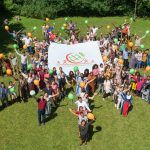 The workshop brought together 100 participants representing 60 countries in the world. It provided a platform for people to network and share ideas for the further development and strengthening of rural youth work in their countries.
Topics on this training seminar included methods of group work, conflict management skills, challenges faced by the youth, communication and presentation skills. At the helm of the seminar was the World Conference where young people debated on pertinent issues including youth participation in agriculture and food.
Excursions were also part of this training seminar. Several places were visited by the participants. Some were the Monastery of Andechs, Dachau memorial camp, the Zugspitze (German's highest mountain), organic farms and several other interesting places. This gave participants an opportunity to know Germany and its historical background.
Kusamala with support from GIZ's Green Innovation Center in Malawi was represented by Tiwonge Nkosi and Chisomo Kamchacha. This leadership training workshop was very important as improved the skills of the representatives in area of leadership. Tiwonge and Chisomo also participated in a follow-up workshop at the GIZ training center in Feldafing. At this workshop, the participants learnt more about the organization 'GIZ' and it's Green Innovation Centers in the Africa and India. Participants also identified areas of collaboration with the centers.